Airport Shuttle Reservations – select From and To and follow the prompts: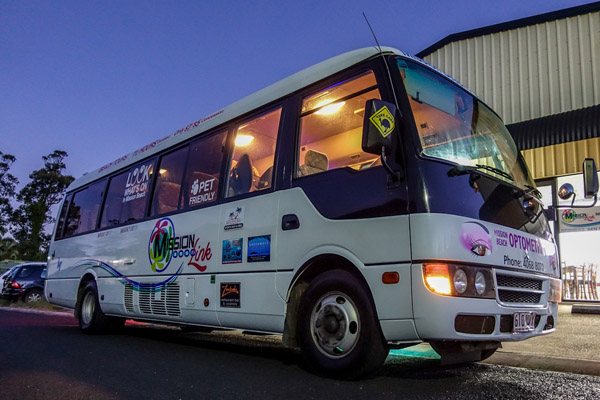 From 1 May 2018 Mission Link Bus Services are operating 2 weekday daily services to and from Cairns.
The mid morning service will pick up around Mission Beach from 10.00AM and leave the beach at 10.30AM arriving at Cairns Airport at 12.45PM then on to motels and Cairns Central.
The first return shuttle from Cairns will pick up around Cairns also at 10.00AM and then leave from the airport at 10.30AM returning to Mission Beach at 12.45PM.
The second shuttle from the airport will leave at the established time of 2.30PM arriving in Mission Beach and Tully at 5.30PM. The early morning service will continue to leave Mission Beach at it's usual time of 6.15AM.
Book online throughout this website or for those without internet access you can always book by phone on 0474 580 000 or the office number 0407 337 661.
Scroll down for timetable.
Cairns Airport to Mission Beach
Come aboard!
We would like to take the opportunity to thank you for your support and "look forward to seeing you on the bus !!".