Airport Shuttle Reservations – Mission Beach, Innisfail, Cairns – select From and To and follow the prompts: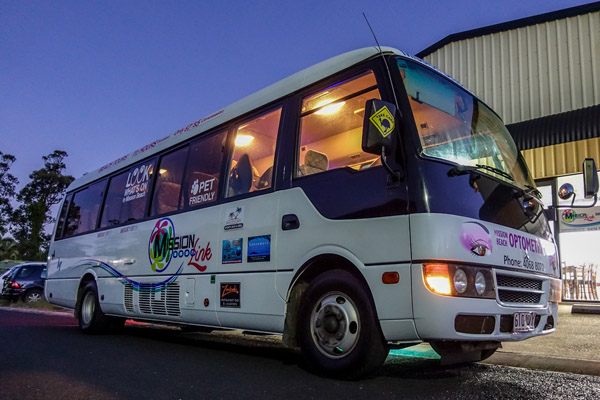 Mission Beach / Innisfail / Cairns Airport Shuttle Bus Timetable
In addition to the new Booked Hire Personalised Transport Service on demand, Mission Link continues to provide Charters and a shuttle service between Mission Beach, Innisfail, Cairns and the Airport 5 days a week with weekend service commencing April 2022 – check the timetable below.
Weekly airport and Mission Beach to Cairns bus service:
Mission Link operates a weekday shuttle service to Cairns Airport. It is essential that bookings for this new service are made online or with a minimum 24 hours notice by phone as the service will not be scheduled if there are no prior bookings. Please note times may be subject to weather and road conditions.
Passengers are asked to arrive at bus stop 10 minutes prior to travel times. Please allow appropriate time preflight to organise baggage, security checks and or customs when scheduling flights from Cairns. Mission Link takes no responsibility for missed flights due to late arrival.
The morning service will pick up around Mission Beach from 6:00AM and leave the beach at 6:15AM arriving at Cairns Airport at 9:00AM then on to motels and Cairns Central.
The afternoon shuttle from the airport will leave at 2.30PM arriving in Mission Beach and Tully at 5.30PM.
Book online throughout this website.  Scroll down for timetable.
Cairns Airport to Mission Beach
Come aboard!
We would like to take the opportunity to thank you for your support and "look forward to seeing you on the bus !!".